Pumpkin-Perfect Autumn Recipes
https://www.elkgrovenews.net/2017/10/pumpkin-perfect-autumn-recipes.html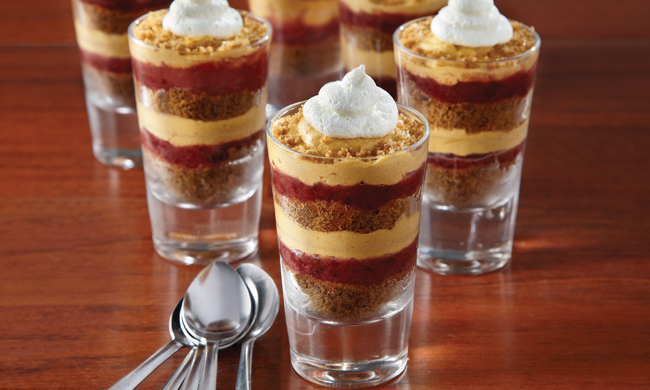 (Family Features) Fall is perfect for making time for fun before the busy holiday season – go for a fall picnic, visit your local orchard or pumpkin patch, and take advantage of all the flavors fall has to offer. Try these delicious, comforting, no-hassle fall ideas that won't carve a big chunk out of your budget:
The great taste of seasonal produce can stand on its own, adding star power to simple recipes. Baked pears or apples are a sweet, festive treat. Slice them in half and fill with walnuts, drizzle with honey and sprinkle with cinnamon. Bake until the sugars caramelize and fruits soften.
Take on-the-go snacks to the next level by coating almonds or garbanzo beans in your favorite seasonal spices and baking until crispy.
No matter the season, trim time grocery shopping by relying on a one-stop-shop like ALDI. Whether you're looking for a new pumpkin spice treat or need quality ingredients for your famous chili, you can find it all at wallet-friendly prices.
Find more tips and recipes for a hassle-free fall at
ALDI.us
.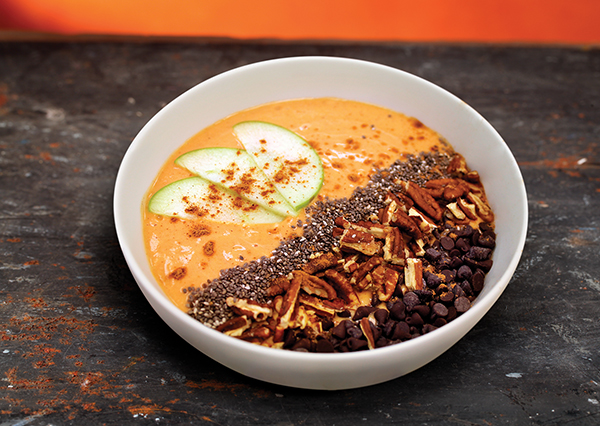 Pumpkin Pie Smoothie Bowl
Recipe Courtesy of Chef Audrey, ALDI Test Kitchen
1/2 cup Baker's Corner 100% Pure Canned Pumpkin
1/2 cup Friendly Farms Plain Nonfat Greek Yogurt
1/2 frozen banana
1/2 cup Friendly Farms Unsweetened Original Almondmilk
2 teaspoons Specially Selected 100% Pure Maple Syrup
1 teaspoon Stonemill Pumpkin Pie Spice
Optional garnishes:
SimplyNature Flax Seed
Southern Grove Chia Seeds
Baker's Corner Semi-Sweet Mini Morsels
Southern Grove Chopped Pecans, toasted
Apple slices
SimplyNature Organic Ground Cinnamon
Blend canned pumpkin, yogurt, banana, milk, syrup and pumpkin pie spice until smooth. Transfer to serving bowl. Top with desired garnishes.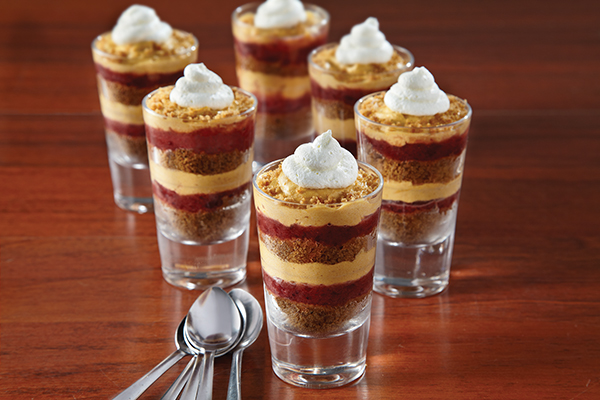 Mini Pumpkin Parfait with Cranberry Caramel
Recipe courtesy of Chef Kates, ALDI Test Kitchen
1 package Cafe Bistro Spekulatius Spiced Cookies
1/2 cup Countryside Creamery Unsalted Butter, divided
1/2 cup packed Baker's Corner Brown Sugar
1/4 cup water
1 cup Sweet Harvest Whole Berry Cranberry Sauce
8 ounces Happy Farms Pumpkin Spice Cream Cheese Spread, softened
1/4 cup Baker's Corner Powdered Sugar
1 cup Baker's Corner 100% Pure Canned Pumpkin
8 ounces Friendly Farms Whipped Topping, divided
Place cookies in food processor and pulse to form fine crumbs.
In medium saucepan, melt 1/4 cup butter. Add cookie crumbs and stir over medium heat 5 minutes, or until toasted. Remove from heat.
To make caramel: Bring brown sugar and water to simmer. Cook about 10 minutes, or until color changes to dark amber. Do not stir, but watch closely. Stir in cranberry sauce and remaining butter. Return to simmer and continue stirring until well combined and thickened slightly, 3-4 minutes. Remove from heat and let cool to room temperature.
Press warm cookie crumbs in bottom of small serving glasses, such as clear shot glasses, espresso cups, small bowls or parfait glasses. Set aside.
In medium bowl, beat cream cheese and powdered sugar until light and fluffy. Add pumpkin and continue mixing to combine. Gently fold in 6 ounces whipped topping.
To complete assembly, top crumbs with layers of cranberry caramel and pumpkin cream. Repeat layers, including crumbs, 2-3 times depending on glass size. Top each parfait with dollop of remaining whipped topping. Serve immediately or refrigerate up to 8 hours.
SOURCE: