Create Fresh, Authentic Mexican Flavor with Mangos
January 18, 2017 |   (Family Features) Many foods are delicious, some invite cravings and a few inspire passion. In traditional Mex...
https://www.elkgrovenews.net/2017/01/create-fresh-authentic-mexican-flavor.html

January 18, 2017 |
(Family Features) Many foods are delicious, some invite cravings and a few inspire passion. In traditional Mexican cuisine, one surprising ingredient embodies all three: the mango.
In Mexico, it's common for people to eat mangos every day, not only for their deliciously juicy flavor, but also for the health benefits they provide. One cup of mango contains 100 calories and a full day's worth of vitamin C, along with vitamin A, fiber and more than 20 other vitamins and minerals, while excluding cholesterol, sodium and fat.
In fact, for many Mexicans, mangos are as basic to taste memories as apples are to Americans.
"I remember mangos practically from my birth," said Ricardo Muñoz Zurita, chef at Azul Restaurantes in Mexico City. "I'm originally from Tabasco and Veracruz, in the southeastern part of Mexico, two of the leading states for growing and eating mangos. I've always been surrounded by mangos, ever since I was a kid, so the mango is the first fruit I really remember."
Some mangos are so tender they are difficult to eat except out of hand, but the golden Ataulfo mango has a creamy texture, often described as "buttery," that holds up well to slicing or dicing. Its smooth, almost avocado-like texture and mildly tart sweetness make it adaptable to many cuisines, providing a complement to the spice and complexity of Mexican food.
Mango salsa or mango guacamole is great with chicken, pork and fish, the primary proteins of Mexico. Mango slices balance out the starch of rice, beans and corn, and the simple flavor combination of mangos, chiles, limes and salt is iconically Mexican.
In this tropical take on guacamole, the mango's sweetness brightens the richness of avocado. To emulate the flavor and texture of Muñoz Zurita's recipe, use caution when mashing the fruits to maintain bite-size cubes of creamy mango and avocado.
Find more mouthwatering, Mexican-inspired dishes to #sharemangolove at
Mango.org
.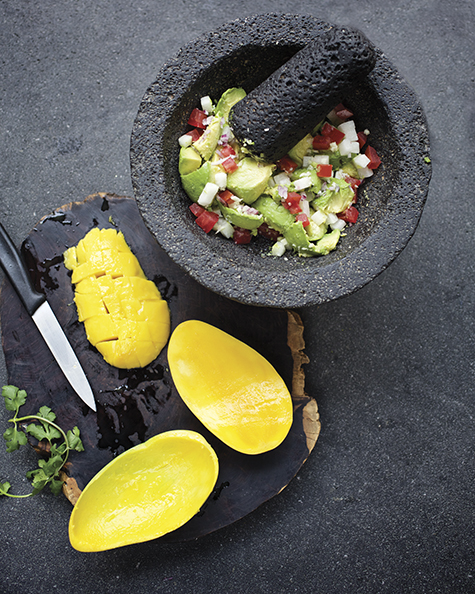 Tropical Mango Guacamole
Recipe courtesy of Ricardo Muñoz Zurita, Azul Restaurantes, Mexico City
Makes: 4 servings
1 ripe mango, diced into 1/4-inch cubes
1/4 cup jicama, diced into 1/4-inch cubes
1/4 cup red onion, finely chopped
1/4 cup garlic, finely chopped
2 tablespoons fresh lemon juice
1/2 teaspoon salt
1/4 teaspoon freshly ground black pepper
2 ripe avocados, peeled
2 tablespoons cilantro, chopped
1 tablespoon red pomegranate seeds, for garnish (optional)
In medium bowl, mix mango, jicama, onion, garlic, lemon juice, salt and black pepper. Set aside.
In another bowl, add avocado and mash until soft. Add mango mixture to avocado and mix. Top with cilantro and pomegranate seeds, if desired, and serve with tortilla chips.
Nutritional information per serving: 230 calories; 15 g fat; 26 g carbohydrate; 13 g sugar; 9 g fiber; 3 g protein; 300 mg sodium.
SOURCE: