Big Flavor Recipes for Summer Get-Togethers
https://www.elkgrovenews.net/2017/06/big-flavor-recipes-for-summer-get.html

June 5, 2017 | (Family Features)
From patio potlucks to backyard barbecues, summer is the ultimate time to kick back and enjoy delicious food with your favorite people. If you're looking to add big flavor to your warm-weather menu, get inspired by these recipes from celebrity chef Jose Garces.
For a taste of Southern cooking, pair Classic Cheddar Pierogies with a buttermilk ranch sauce in Garces's Chicken-Fried Pierogies. Also enjoy a delicious twist on an Asian favorite by serving up Garces's Szechuan-Style Pierogies featuring savory Garlic & Parmesan Pierogies, one of 16 different varieties from Mrs. T's Pierogies, which are the perfect canvas for your favorite ingredients and spices.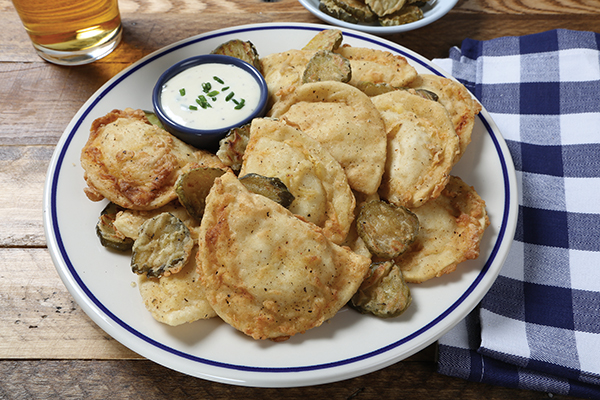 Chicken-Fried Pierogies
Recipe courtesy of Chef Jose Garces
Flour Dredge:
1 1/2 cups all-purpose flour
1 1/2 tablespoons kosher salt
2 teaspoons freshly ground black pepper
1 1/2 teaspoons freshly ground white peppercorn
1 teaspoon sweet paprika
1 teaspoon onion powder
1/8 teaspoon ground dried sage
1/8 teaspoon dried thyme
1/8 teaspoon cayenne pepper
Pierogies:
1 box (16 ounces) Mrs. T's Classic Cheddar Pierogies
1 cup buttermilk
2 eggs, lightly beaten
2 cups flour dredge (recipe below)
canola oil
large kosher pickles, cut into round slices
ranch dressing
To make flour dredge: In large mixing bowl, mix all flour dredge ingredients until thoroughly combined.
To make pierogies: Bring large pot of water to boil. Place pierogies in boiling water until no longer frozen in center, about 2 minutes. Remove pierogies from water and cool in refrigerator 10 minutes.
Place buttermilk, eggs and flour dredge in three separate bowls. One at a time, dip pierogies in buttermilk then in eggs and finally in flour dredge. Once all pierogies are dredged, fry in deep fryer at 350 F in canola oil, approximately 3 minutes until golden brown. Repeat flour dredge process with pickle slices and fry 3 minutes.
To serve, place fried pierogies and pickles on serving plate. Serve with ranch.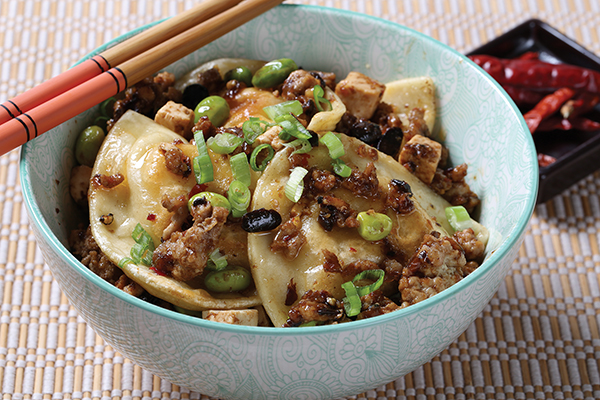 Szechuan-Style Pierogies
Recipe courtesy of Chef Jose Garces
1/2 cup, plus 2 tablespoons, vegetable oil, divided
3 Arbol chilies
1/4 cup Szechuan chili sauce
4 tablespoons, plus 2 teaspoons, fresh minced ginger, divided
2 tablespoons, plus 1 teaspoon, garlic, minced (about 5 cloves), divided
1/2 tablespoon Szechuan peppercorns, toasted and ground
1/2 cup black bean garlic sauce
2 cups chicken stock
1 tablespoon thinly sliced scallion (white parts only)
1 cup ground pork
1 teaspoon soy sauce
1 tablespoon unsalted butter
1 box (16 ounces) Mrs. T's Garlic & Parmesan Pierogies
1 tablespoon peeled edamame
2 tablespoons firm tofu, diced
1 1/2 cups bean sprouts
Place 1/2 cup oil and chilies in saucepan. Cook over low heat 2 minutes, or until chilies turn brown. Remove chilies from oil and discard oil.
Add Szechuan sauce to saucepan; cook 3 minutes. Add 4 tablespoons ginger, 2 tablespoons minced garlic and ground peppercorns; cook until fragrant, about 2 minutes. Add black bean sauce and cook another 2 minutes. Add chicken stock and bring to boil. Reduce heat to simmer and cook 20 minutes. Reserve.
In saute pan, heat 1 tablespoon vegetable oil over medium-high heat. Add remaining ginger, remaining garlic and scallions; cook 1 minute. Add pork and cook 5 minutes, breaking up with wooden spoon. Add soy sauce and combine. Reserve.
In saute pan, melt butter and remaining vegetable oil. Add pierogies and sear lightly, about 7 minutes on each side until lightly browned. Reserve.
In large saute pan, combine Szechuan sauce, ground pork mixture, seared pierogies, edamame and tofu. Cook over medium-high heat until combined, about 2 minutes. Garnish with bean sprouts.
SOURCE:
Mrs. T's Pierogies