Fun in the Sun - Cap off a day of play with dinner outdoors
https://www.elkgrovenews.net/2017/07/fun-in-sun-cap-off-day-of-play-with.html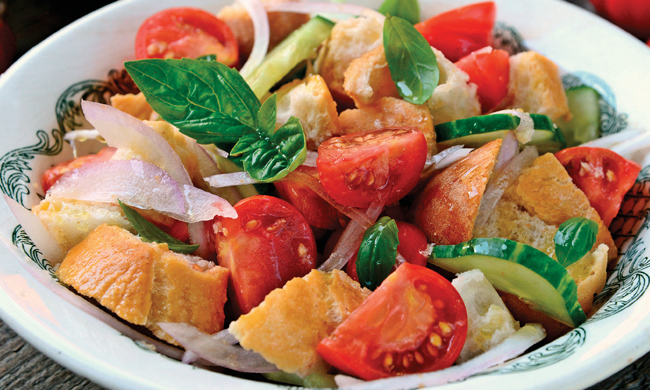 (Family Features) Enjoying the great outdoors is a perfect way to create fun memories with family or friends. All that fresh air is sure to work up your appetite, so be sure to plan a delicious meal to top off all the merriment.
Get those taste buds fired up for a delicious meal with a flavorful starter like this zesty panzanella. Take family favorites outdoors with this savory take on a flatbread pizza. Then close down an evening of open-air entertainment on a sweet note with a scrumptious dessert.
Explore more family-friendly recipes to enjoy outdoors this summer at
culinary.net
.
Smart Starters and Sides
There's plenty to learn from the Mediterranean diet, and this recipe is proof. A variety of colorful cancer-fighting veggies, flavorful herbs and spices, and a bit of healthy fat make for a perfect starter or accompaniment to a grilled protein for a well-rounded meal. Find more recipes to help you eat well at
AICR.org
.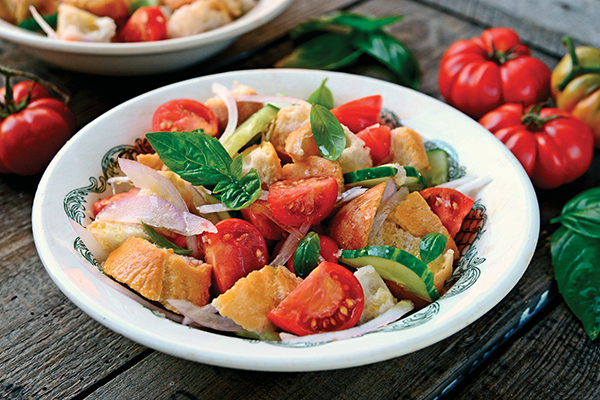 Grilled Panzanella
Reprinted with permission from the American Institute for Cancer Research
Servings: 6
4 garlic cloves, minced
1/2 teaspoon Dijon mustard
2 tablespoons white wine vinegar
1/4 cup extra-virgin olive oil
salt, to taste
freshly ground pepper, to taste
15 fresh basil leaves, coarsely chopped
1 medium cucumber, seeded, washed and cut into 1/2-inch slices
3 large ripe tomatoes, cut into 1-inch cubes
2 tablespoons green olives, pitted and chopped (capers may be substituted)
1 medium red bell pepper, seeded and quartered
1/2 large red onion, cut in half and then into 1/4-inch slices
1/2 small loaf crusty whole-grain French or Italian bread, cut into 1-inch slices and halved
Heat grill.
In mixing bowl, whisk together garlic, mustard, vinegar, olive oil, salt and pepper; set aside.
In large bowl, gently combine basil, cucumber, tomatoes and olives.
Brush bell peppers and onion slices on one side with oil mixture. Place oil-side down on hot grill and cook 3-4 minutes. Brush other side with oil mixture, turn over and cook additional 3-4 minutes.
Remove from grill. On cutting board, cut peppers into 1/2-inch slices and separate onion rings. Add peppers and onions to vegetable mix. Add remaining oil mixture and toss to coat.
Toast both sides of bread until browned. On serving platter, layer bread and top with vegetables and basil mixture.
Create Family Moments and Memories this Summer
Take advantage of slower summer schedules by rounding up the family and heading to the backyard for fun, food and family time.
The opportunities for family time during the warmer months are nearly endless, especially with a little creativity, like these fun summer ideas from Borden Cheese.
Let your inner kid run free
Whether it's kick the can, ghost in the graveyard, capture the flag or hide and seek, backyard games are a great way to get the whole family to unplug and enjoy summer together.
Fire up your appetite
Ditch the kitchen and get the whole family engaged by recreating everyone's favorite pizza on the grill. This deliciously easy Cheesy Flatbread Pizza recipe can be enjoyed by adults and kids alike. Keep it simple for kids with Borden Cheese's Mild Cheddar Shreds or dress it up with some fresh veggies straight from your garden or local farmer's market.
Rethink family movie night
Take your family movie outside. All you need is a sheet, a projector and some comfy pillows to turn your backyard into an open-air movie theater. Watch new releases, old favorites or even home movies right in your own backyard.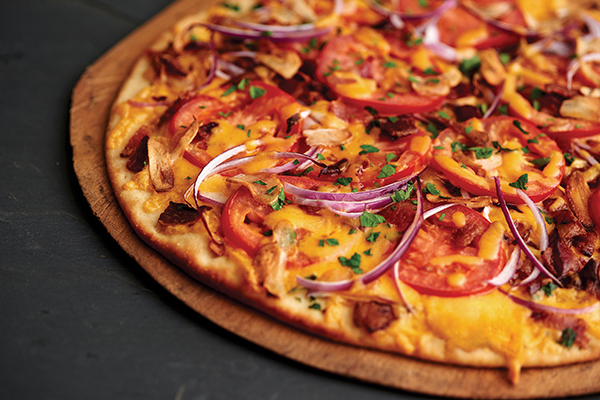 Cheesy Flatbread Pizza
Cook time: 25 minutes
Servings: 4
1 piece (12 inches) cracker bread or flatbread
1 tablespoon olive oil, plus additional for brushing
1 package (8 ounces) Borden Cheese Mild Cheddar Shreds, divided
8 strips thick-sliced bacon, cooked crisp and broken into 1-inch pieces
4 whole garlic cloves, sliced
4 plum tomatoes, sliced
1/2 red onion, cut in strips
1/4 cup chopped Italian parsley
fresh basil leaves (optional)
Heat oven to 400° F.
Brush bread with small amount of olive oil and place on cookie sheet. Spread 1 1/2 cups cheese evenly around bread. Top evenly with bacon pieces.
In small skillet over medium heat, heat 1 tablespoon olive oil until hot. Add garlic and saute until lightly browned. Sprinkle onto pizza. Arrange sliced tomatoes and red onions on pizza.
Add parsley to remaining cheese and spread over ingredients.
Bake 10 minutes, or until cheese is melted. Cut into squares and serve immediately. Garnish with fresh basil leaves, if desired.
Tip: For a different flavor profile, try grilling pizza rather than baking. Brush raw side of dough with olive oil and grill until bottom of crust is golden brown.
Sweeten the Deal
For the perfect ending to a perfect day, look to some of nature's best ingredients, like fresh apples and honey. This fruity crisp is packed with flavor from tart, juicy apples and a delicate sweetness from honey that coats the fruit and lends a unique character to the crumbly topping. Find more sweet dishes for summer at
honey.com
.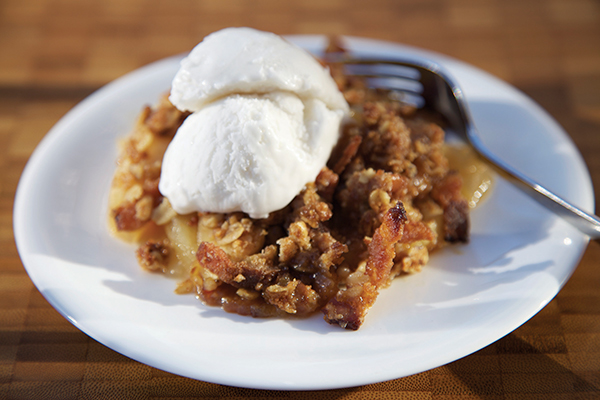 Apple Honey Crisp
Recipe courtesy of the National Honey Board
Servings: 6
2 pounds (1 1/2 quarts) apples, quartered and sliced
3/4 cup honey, divided
1 teaspoon cinnamon
1/2 teaspoon nutmeg
1 cup flour
1/4 cup butter, softened
warm cream or ice cream
Heat oven to 350° F.
In bowl, toss apples with 1/2 cup honey, cinnamon and nutmeg. Turn into 2-quart baking dish.
To make topping, beat flour with butter and remaining honey until crumbly; sprinkle over apples.
Bake 40-45 minutes, or until apples are tender and topping is golden. Serve with warm cream or ice cream.
Photo courtesy of Getty Images (Grilled Panzanella and Apple Honey Crisp)
SOURCE: