Warm Up Fall Meals - Pairing Lamb Shank With Wine
https://www.elkgrovenews.net/2017/10/warm-up-fall-meals-with-wine.html
October 26, 2017 |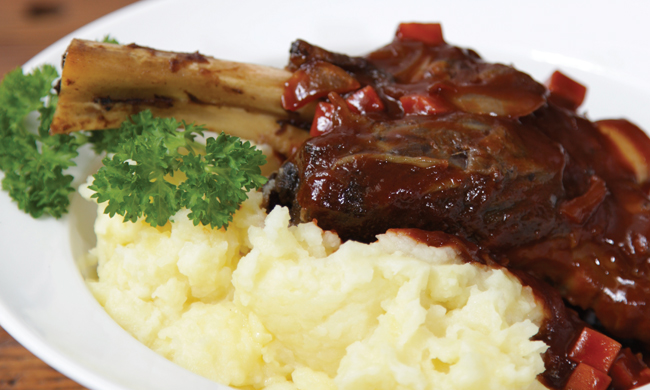 (Family Features) Fall is the perfect time to welcome warm, robust flavors to your kitchen as well as your wine glass. With its bold, spicy, dark fruit flavors, cabernet sauvignon is a perfect wine for crisp fall weather.
Cabernet sauvignon is more versatile for pairing than some believe. It pairs well with different cheeses, meats, hearty vegetables and even fish. The key to creating a great dining experience is balancing the flavor of the meal with an elegantly balanced wine. When cooking, consider the three main flavors: sweet, salty and sour.
Sweet sauces can make cabernet sauvignon taste harsh and astringent, which takes away from the fresh fruit flavors in the wine. However, sour and salty flavors can make the wine taste more vibrant, creating a velvety mouthfeel of soft tannins while making the fruit taste more pronounced.
A well-balanced cabernet, such as Sequoia Grove Winery's Napa Valley Cabernet Sauvignon, pairs well with any meat or fish that is prepared with an acidic sauce or when given a squeeze of lemon juice. The winery, located in the heart of the Rutherford region in Napa Valley, specializes in the production of elegant, food-friendly cabernet sauvignon. Crafted by winemaker Molly Hill, the wine has aromatics of bright black cherries and blackberry, followed by cinnamon with a touch of black pepper. The palate is elegant with a round, full body, soft tannins and tasty blackberry flavors.
This recipe for a savory lamb shank stew has just the right amount of salt, acid and spice to create a deliciously balanced meal that is perfect to pair with an elegant glass of cabernet sauvignon. Learn more about Sequoia Grove's wines and tasting seminars that include pairing suggestions at
SequoiaGrove.com
.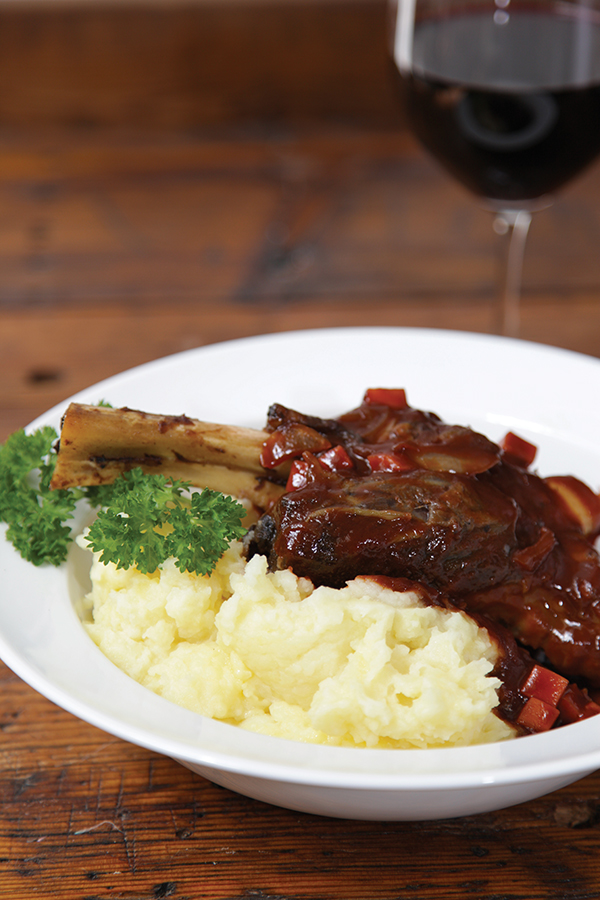 Slow Cooker Lamb Shank Stew
Serves: 4
1 yellow onion, diced
2 celery stalks, diced
2 carrots, peeled and diced
3 garlic cloves, crushed
2 cups chicken stock
1 cup peeled, seeded and chopped tomatoes
2 tablespoons tomato paste
1 teaspoon chopped fresh thyme
1 bay leaf
4 lamb shanks, external fat trimmed
salt, to taste
freshly ground pepper, to taste
2 tablespoons olive oil
lemon juice
In slow cooker, combine onion, celery, carrots, garlic, chicken stock, tomatoes, tomato paste, thyme and bay leaf; stir.
Season lamb shanks with salt and pepper. In large saute pan over medium-high heat, warm olive oil until nearly smoking. Add shanks and brown on all sides, about 5 minutes. Transfer to slow cooker and cook on high 6 hours.
Transfer lamb shanks to large serving dish. Remove bay leaf from cooking liquid. Using blender or stick blender, add generous squeeze of lemon juice to cooking liquid and puree until smooth. Pour some sauce over shanks. Serve with cauliflower puree and glass of Sequoia Grove Cabernet Sauvignon.
Photo courtesy of Getty Images
SOURCE: