Sweet Seasonal Treats for Fall
https://www.elkgrovenews.net/2017/09/sweet-seasonal-treats-for-fall.html

(Family Features) Crisp fall days call for flavorful desserts that warm you from the inside out. There's no better way to capture the flavor of fall than with dishes that celebrate traditional seasonal favorites like cinnamon, spice and tart, juicy apples.
These desserts are perfect for fall, and a secret ingredient makes them quick and easy so you have plenty of free time to work up an appetite and earn an extra bite (or two). Apple butter is more than just a spread for toast; it's a versatile ingredient that can enhance your favorite recipes. With Musselman's Apple Butter, made the old-fashioned way for perfect texture and a deep, rich flavor, you can make it simple to satisfy your craving for a taste of autumn at its best.
Find more fall tips and recipes perfect for sharing with your family at
musselmans.com
.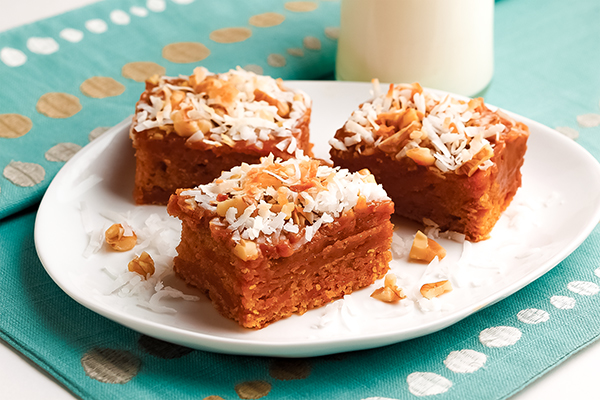 Caramel Crumble Bars
1 box (15 1/4 ounces) yellow cake mix, dry
1/2 cup butter, softened, plus 2 tablespoons, divided
3/4 cup Musselman's Apple Butter, plus 3 tablespoons
1 egg
1 package (11 ounces) caramels, unwrapped
2/3 cup walnuts, chopped
2/3 cup flaked coconut, sweetened
2 tablespoons butter, melted
Heat oven to 350° F. Grease 13-by-9-inch baking pan.
With electric mixer on low speed, beat dry cake mix and 1/2 cup softened butter until mixture is crumbly. Spoon 1 cup cake mix mixture into medium bowl; set aside.
Add 3/4 cup apple butter and egg to remaining mixture. Beat on medium speed until smooth and creamy.
Spread evenly into pan. Bake 20 minutes, or until starting to brown and top is set.
Place caramels, 2 tablespoons butter and remaining apple butter in microwavable bowl. Microwave on high 3-4 minutes, stirring every 30 seconds until smooth and melted.
Pour caramel mixture evenly over partially baked crust. If caramel has cooled and set, microwave 1 minute until soft and pourable.
Combine walnuts, coconut and 2 tablespoons melted butter with reserved cake mix mixture. Mix until crumbly.
Break up topping and sprinkle evenly over caramel.
Bake 16-18 minutes, or until topping is starting to brown. Cool completely before cutting into bars.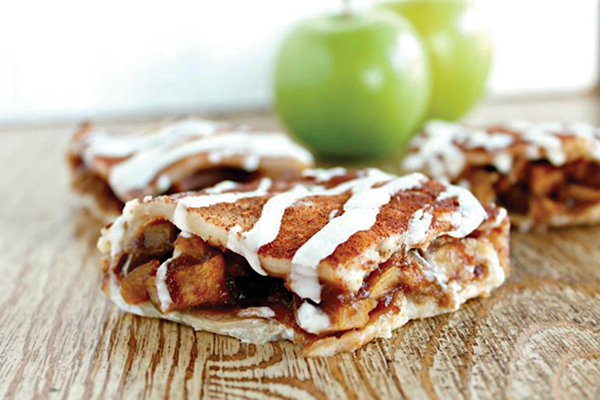 Easy Apple Pie Bars
Prep time: 20 minutes
Cook time: 1 hour
Servings: 20
Nonstick cooking spray
7 cups Granny Smith apples, peeled, cored and diced
1 cup Musselman's Apple Butter
1 1/2 teaspoons vanilla extract, divided
1/2 cup brown sugar
2 frozen pie crusts, defrosted
1 egg white
2 tablespoons sugar
1/2 teaspoon ground cinnamon
1 cup powdered sugar
2 tablespoons milk
Heat oven to 350° F. Grease 9-by-13-inch pan with nonstick cooking spray.
Place diced apples in large mixing bowl. Add apple butter, 1 teaspoon vanilla and brown sugar. Mix until apples are evenly coated.
Place one pie crust in bottom of greased pan. Slowly stretch out crust to cover pan's bottom. Cut some edges off, if necessary. Spread apple filling evenly over crust.
With rolling pin, roll second crust to make it same size as pan. Place second crust on top of apple pie filling and tuck down edges to cover.
To make topping: In small bowl, whisk egg white until foamy and brush over crust. In another bowl, combine sugar and cinnamon, and sprinkle evenly over crust.
Bake 50-60 minutes until crust is golden brown. Remove from oven and cool slightly before cutting.
To make glaze: In small bowl, combine powdered sugar, milk and remaining vanilla, and whisk until smooth. Drizzle over cooled bars and serve.
SOURCE:
Musselman's Apple Butter